PowerPoint
Barcodes in a presentation
Embed a barcode into a PowerPoint presentation

PowerPoint 365, 2021, 2019, 2016, 2013, 2010, 2007, 2003

An
Add-In
for PowerPoint 2010 or newer is available. This makes working with barcodes much easier. See this
step-by-step tutorial for the PowerPoint add-in
.
1
This instructions show you how to embed the ActiveBarcode control into your document. You can automate the control using a macro. If you just want to add a static picture of a barcode, please use the ActiveBarcode Generator instead and transfer the picture of the barcode with copy/paste into your document.

First launch Powerpoint and create a new document or open an already existing document.

Make sure that you have configured your Powerpoint, that the "Developer" tab is shown in the ribbon. If not, go to the Powerpoint Options: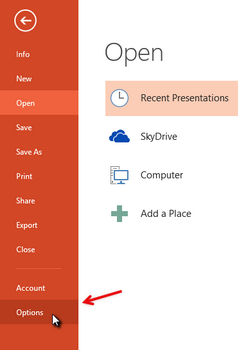 2
Select "Customize Ribbon" and activate the option "Developer". Then close the option window.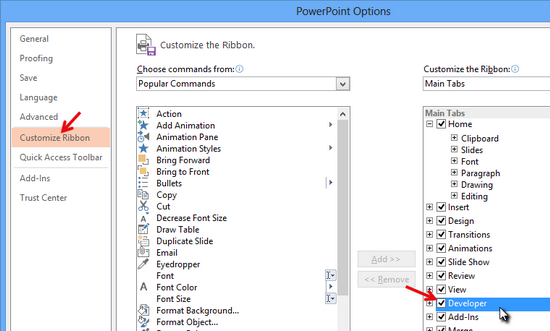 3
Now you can embed the ActiveBarcode control element into your Powerpoint Document. Select Developer tab. Click on the button "More controls" from the range of "Controls".

4
A dialog box appears on the screen: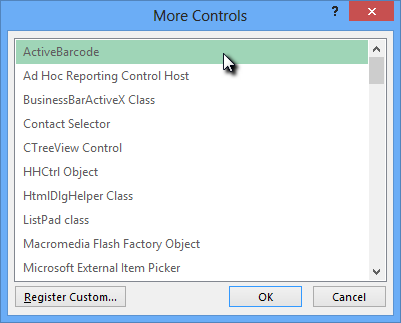 5
Select "ActiveBarcode" now and click "Ok". Now a barcode will be created inside your document. This will be a standard barcode of EAN-128 type. This is the default type. You can change this to any barcode type supported by ActiveBarcode: QR Code, GS1/EAN-128, Data Matrix, GTIN/EAN-13, Code 39, Code 93, GS1-Data Matrix, Code 128, PDF417, DUN-14, EAN-8, EAN-14, EAN-18, ISBN, ITF-14, NVE, PZN8, SCC-14, SSCC-18, ...
Now you can modify this barcode. You can change the type, text, colors etc. For this click inside the barcode with the right mouse button. A pop up menu will open: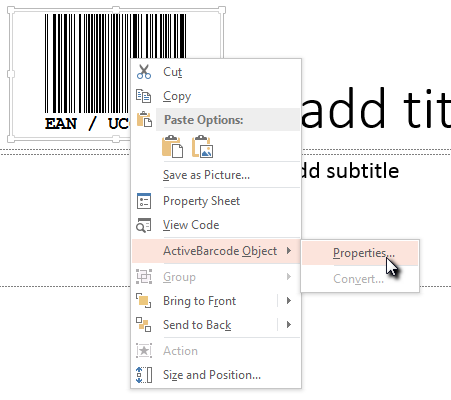 6
Select "ActiveBarcode-Object" and then "Properties...". The property dialog of ActiveBarcode will open. Here you can modify the barcode as you like.