Download ActiveBarcode 6.12.0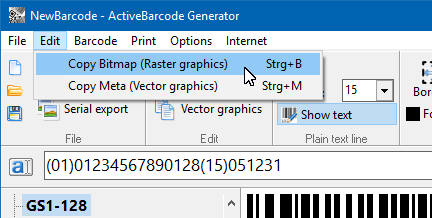 Try it for free...
ActiveBarcode-Setup6.12.0.exe (34MB)

Alternative download of the program package as
ZIP Archive
.

You can evaluate ActiveBarcode without any registration or obligation for free.
Use the trial period to make sure that ActiveBarcode meets your needs and can be used as desired.
During the trial period, the software behaves like the licensed software but is for evaluation use only.
After the trial period ends the software can still be used but all barcodes will show "expired".
Purchase a license to use ActiveBarcode without any timely limit.
If you have further questions: Please contact us.
System requirements

To work with the ActiveBarcode software suite you need:

Windows 11, Windows 10, Windows 8, Windows 8.1, Windows 7, Windows Vista, Windows Server 2022, Windows Server 2019, Windows Server 2016, Windows Server 2012, Windows Server 2012 R2, Windows Server 2008, Server 2008 R2. Both 32 and 64 bit (x86 and x64) environments are fully supported.
About 10-70 MB of free hard disk space is required for the installation.
You need administrator rights for the installation.
No high demands are made on the PC itself. If Windows runs on it with one of the above-mentioned versions, all requirements are fulfilled.
To use the barcode object in Microsoft Office, you need Office 2000 or later or Office 365.
To use the optional Excel-, Word- or PowerPoint- Add-Ins you need Office 2010 or later or Office 365.
To use the optional Access Add-In you need Access 2016 or later or Office 365 in the 64bit version.
Using virtual machines or terminal clients is supported, but must be covered by the license.