How

to print barcode labels
Print barcode labels with the generator
1
Here we show you how easy it is to print labels with barcodes on it. You can specify the barcodes and labels position and size in millimeters.

First launch the ActiveBarcode Generator. Then create the barcode you require. If you need information of how to use the ActiveBarcode Generator click here
Step 1: Setup the label sheet
To setup the dimensions of the labels and the label sheet, first select the function "Setup Label sheet.." of the menu "Print". The following dialog will be shown: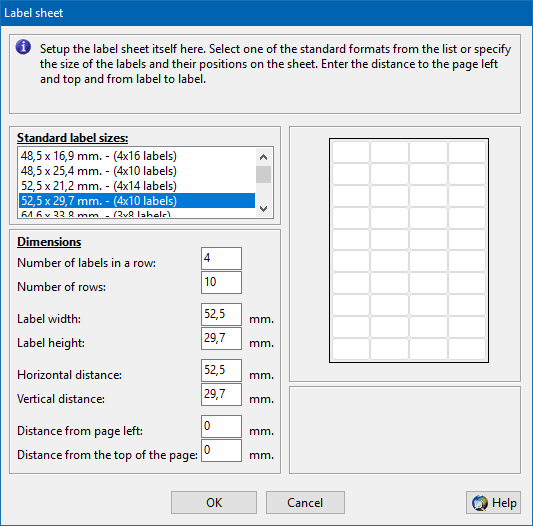 2
Select the required label sheet definition from the list of predefined labels sheets. If the sheet you need is not available in this list continue with setting up the label sheet for yourself:

Enter the required dimensions of the labels in millimeters. Take a look at the image on the right of the dialog to see what values are required. Please not that some label sheets have no unused borders . In this case you enter simply 0 for them.

After entering all data correctly, press the "Ok" button.


Step 2: Print the labels
Select the function "Labels.." of the menu "Print". You can specify the size and the position of the barcode on the label. If you want to do this, click on the tab "Barcode Position". The following dialog will be shown: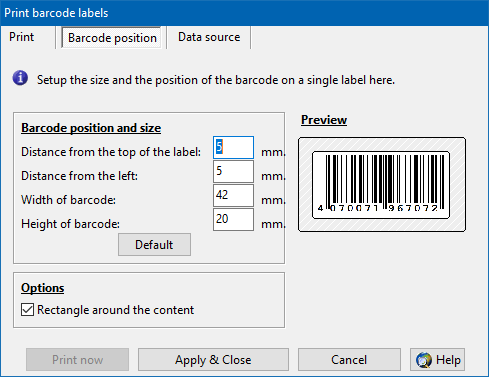 3
Take a ruler and measure the position and the dimensions of the place where the barcode should be printed. You need 4 values:
Distance from the top of the label
Distance from the left of the label
Width of the barcode
Height of the barcode
You enter this four values into the above shown dialog.
There are label options:
Rectangle around the content
: Check this option, if you want a border for the label.
After entering all data correctly, go back to the "Print" tab.
Now select what labels you want to print. The following tab will be shown: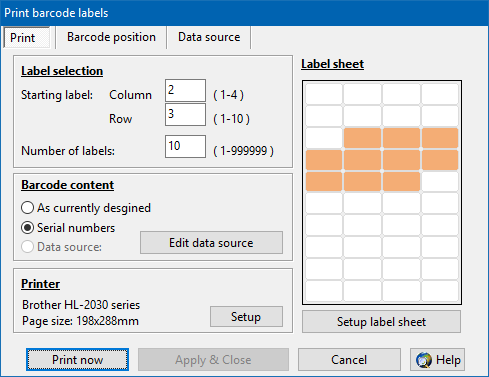 4
Select the first label you want to print. Enter the row and the column of it. Then enter the number of labels you want to print. The graphics on the right will show you the labels you selected for print.

There are print options:

As currently designed:
The barcode you currently have designed inside the ActiveBarcode Generator will be printed.

Serial numbers:
Using this option you can create labels with serial numbers starting the current barcodes text. This option is only available if serial numbers are possible with the current barcode text setting, e.g. is must be numeric.

Data Source:
You can use the "Data Source" to import data. See this example of using the data source for more information.

Now press the "Print now" button. The barcode labels will be printed.